Deck the Halls with Brains and Corpses!
Zombie Thursdays is a weekly feature with guest blogger, Miranda. You can read more about her here.
Most people don't associate zombies with Christmas. The average person probably lumps zombies into the neat little category of all things "Halloween." And while it is true that zombies get their biggest spotlight during the days of cider and burning leaves, let's face it-- zombies are awesome. And they deserve to be loved throughout the year! As far as Christian holidays go, it is easy to think zombies go best with Easter and not Christmas. After all, tomorrow is the celebration of birth, not a celebration of the dead rising from the grave. Nevertheless, zombies can find a home with baby Jesus, Santa, and snowmen.
Fresh on my mind is the new book
It's Beginning to Look a Lot Like ZOMBIES! (A Book of Zombie Christmas Carols)
by Michael P. Spradlin. Yes... it literally is a book full of popular and familiar Christmas carols rewritten to be sung when the zombie apocalypse strikes and most of your friends are sure to become the undead. You want to include them in your festivities as well, right?
Yes, Christmas is on its way-- and all the little boys and ghouls are dreaming of stockings filled with candied eyes and bleeding body parts. You'd better watch out! Santa Claws is coming to town-- and he knows who's been naughty, who's been naughtier... and who'll taste best with a nice glass of Chianti!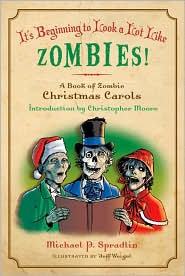 Sounds like my kind of holiday book! Some of the soon-to-be-classics include
"I Saw Mommy Chewing Santa Claus," "We Three Spleens," "Deck the Halls with Parts of Wally," and "I'm Dreaming of an Undead Christmas."
Now, you still living humans may be familiar with the "Christmas Song" (sometimes mistakenly called "Chestnuts Roasting on an Open Fire). Here is what happens when it becomes zombified!
Fresh brains roasting on an open fire,
Zombies chewing off your nose--
It all began when they ate the whole choir.
They're even eating Eskimos.

Everybody knows a leg bone and someone's toes
Make a Zombie's season bright.
Tiny tots, with their eyes in a bowl,
Will find it hard to see tonight!

If
that
didn't just bring a smile to your face or make you laugh in joyous Christmas spirit... I honestly don't know what else will!
A lot of my close friends know that I fear snowmen. Some people are afraid of clowns, others dentists... but I am afraid of snowmen. I am constantly trying to educate my family and friends that snowmen are, in fact, evil and that it is only a matter of time that one might try and kill them! A few years ago I even made some "Snowmen Survival Kits" as Christmas gifts, complete with everything needed to fight of evil men of snow. So, imagine my delight when I discovered one of the songs in this book is called "Zombie, the Snowman!" Maybe now someone will believe me when I say they should be wary of these guys...
Zombie the Snowman knew the brains were fresh that day,
So he said, "Please run, because it's lots more fun when I eat your brain that way."

See? Clearly EVIL.
The book also contains some awesomely gruesome and graphic illustrations for each song; some of them are actually kind of disturbing! I bought my copy at Borders for ten dollars. It's a pretty thin book, so I thought ten was kind of pricey. But the book was just released last month and it is Christmas. I'm sure if you wait to buy it next week it will be highly discounted! These rewritten songs are pretty clever and may even inspire you to come up with some of your own alternate lyrics. I imagine this book will be an integral part of my future Christmas celebrations!
And as a side note, last week the man who helped teach you that zombies eat BRAINS passed away. Dan O'Bannon, writer and director of
Return of the Living,
was only 63. As a tribute on my Twitter page, I posted a link to an Onion article from several years ago that featured the "O'Bannon Institute for Postmortem Nutritional Studies." Feel free to go check it out
here
.
Zombie Christmas to All! And to All an Undead Night!